SD World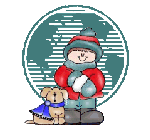 SD World is a list dedicated to providing a place where those who suffer from Scleroderma and other autoimmune problems may gather in a warm, friendly forum for an upbeat, open and free exchange of thoughts, ideas and information. We also offer a section of links for scleroderma medical, support, health or fun information.
No matter who we are, patient, caregiver, family or friends of patients or caregivers, we all need support. We need to know there is always someone there to talk to, to lend a helping hand, to lean on, to just plain listen, to know we are not alone. There are individuals and groups worldwide offering this help.
Service Dogs
Just as there are guide dogs for the blind and hearing dogs for the deaf, there are dogs trained to assist disabled people. A service dog brings with it the gift of independence. A dog will pick up dropped objects, help in stability in walking and orientation, and pull wheelchairs.
(Recently Don Alfera shared with us a bit of the vast knowledge he has accumulated about service dogs. Don is both a scleroderma patient and service dog trainer. We thank him for allowing us to add his thoughts to our service dog web page. Following his comments are both his and our favorite service dog web sites.)
The use of "Service Animals" is becoming more in demand as the "Baby Boomers" continue to age and more people with disabilities are realizing that this may be a way to help with finding some way to help cope and live a more full life. The rights of the disabled are guaranteed by the Americans with Disabilities Act section II and Federal Rehabilitation Act section 504. Both are enforced by the Department of Justice. These two programs also protect the rights of access for a "Service Animal Team."
The term "Service Animals" refers mostly to dogs that are specially trained to help overcome specific limitations that a person with disabilities may have.
Signal dogs help with those with hearing loss.
Support dogs are trained to help with tasks such as:
To carry items.
Pick up items dropped.
Retrieve items from other locations such as a phone etc.
Bracing and support to assist in cases of balance control.
Seizure alert dogs for people with seizure disorders.
Dogs can be trained for a person who needs mobility help or almost any other need.
Research is now being done to measure the effectiveness of service animals for those with anxiety and depression disorders in addition to dementia.
I have worked with several trainers over the years and have trained my own service dog. We were certified about 2 years ago as a "Service Animal Team" and we are now working with another scleroderma patient with the placement of our first service dog. My goal is to work with scleroderma patients to help overcome their limitations and add quality to their lives with the help of service animals.
I would like to add that this is a free service we are hoping to provide in the future. We work with the community on fund raisers and that is how we will continue to place dogs in the future. We are not a nonprofit yet as I am trying to get help with the paperwork but that is another story. LOL We will be in the future but for now we are doing fine and we hope to have one or two of our dogs at this years or next years national conference.
Many spend their resources and talents on research and finding a cure, until then, it is up to us to help each other with support both emotional and in other ways. We are the ones that have to find ways to live the day to day life, while those with the ability and resources keep working to find a cause and cure.
Here are some good links that I have found to help with more information and specific guidance on "Service Animals."
© Copyright 2000, Don Alfera, Reproduced with Permission
Alf's Dogs. "My name is Don Alfera. I have worked with several trainers over the years and have trained my own service dog. We were certified about 2 years ago as a "Service Animal Team" and we are now working with another scleroderma patient with the placement of our first service dog. My goal is to work with scleroderma patients to help overcome their limitations and add quality to their lives with the help of service animals."
Don also says, "Many spend their resources and talents on research and finding a cure, until then, it is up to us to help each other with support both emotional and in other ways. We are the ones that have to find ways to live the day to day life, while those with the ability and resources keep working to find a cause and cure."